---
---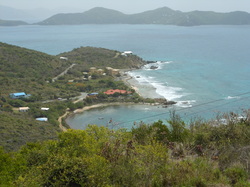 Location
: Coral Bay, USVI - St. John, Caribbean (Over half of St John is a national parkland.)
View Map
Accommodations
: House, 1 Bedroom + Sleeping Porch, 1 Bath (Sleeps 4)
You'll find villa 'Iola' sitting high on 'Sugarbird Hill' and off the beaten path. The John is the wedding capitol of the Caribbean and Iola has the romance you are looking for. This truly is an island get away with luxury accommodations. Enjoy the slow pace of a quiet neighborhood. You can walk to beautiful beaches with easy assess to the hiking trails of the Virgin Islands National Park. Or take a tour the winding mountain sides and watch for the free roaming donkeys, goats, deer and other critters. Beaches, trails, restaurants and quaint shops await you. Day sails and kayaking available. Enjoy your luxury stay while you partake in stunning ocean views from huge custom-made arched windows. Gaze from John Folly Bay, past 'Treasure Island' and the British Virgin Islands. Iola's waterviews overlook the other side of the island too, to Grootpan Bay and beyond.
Feel the spacious, open floor plan, with high, vaulted, open beamed ceiling, lots of room to roam about in luxury including 1 BR, 1 BA, modern kitchen and sunny sleeping porch with spectacular views. We pride ourselves that you find Iola elegant and spotless.
Nestled inside you can almost touch the picturesque virgin mountaintops of the VI National Park. There are sea views to see and sea breezes to feel flowing through Iola. Don't miss an elegant evening dining outdoors in the private brick and stone courtyard watching the stars. The lush 2/3 acre is all yours to roam.
There is soooo much to do within walking distance too. Salt Pond Bay has a national park beach, walk to a real salt pond , Drunk Bay and hiking trails. Or walk to the Concordia Eco Resort for fine wine and dining all with water nature views. Meet the locals here, they are friendly and love to answer your questions about where you may wish to go next.
Oooooolala, we know you'll LOVE IT!!
---
Iola Features:
Kitchen and Dining:




Bedrooms:




Bathroom:


Amenities:



Entertainment


Outdoor Features:



Communications:

Activities:


Guest provide their own meals. Fully functional kitchen. Propane grill on the patio. Modern appliances including a two drawer dishwasher, 4 burner gas stove top, large side by side fridge with ice in door, coffeemaker and microwave. Dishes & utensils. Dining areas seats four.

Non-Smoking only. Smoking is allowed outside on the patio. Not recommended for small children. Sleeps 4: King size beds (1) Quality comfy foam king mattress with cathedral ceiling, ceiling fan and A/C., Queen size Beds (1) Quality comfy queen mattress in sleeping porch with great views and sea breezes.

One bathroom, hair dryer. Beach and shower towels. Some toiletries if you have forgotten yours.

Linens provided: All linens including beach towels and beach chairs.
Bathroom towels also provided. Private of street parking. Air conditioned bedroom.

Satellite TV, 50 inch flat screen., ipod doc, CD player, DVD player, stereo, and St John books.

Ocean views of several British Virgin Islands and across Coral Bay and the east end St. John. Beach view overlooking John Folly Bay and several islands. Mountain views of the Virgin Islands National Park, Minna Peak.

Wireless broadband internet. Telephone for local calling.

Walking distance to U S Virgin Islands National Park with over 24 hiking trails, Salt Pond Bay Beach or take the bus for $1 to shop in 'town' or to get that world famous hamburger at 'Skinny's' in Coral Bay. Adventure awaits as you strap on your snorkel or visit historic slave ruins.

Restaurants, snorkeling, scuba diving, sailing, paragliding, hiking, kayaking, boating, beach combing, sight seeing, fishing, swimming, scenic drives, shopping.

Rates:

High Season:
Mid Season:
Low Season:



Click on the VRBO or HomeAway icon to get rates and the calendar of open dates.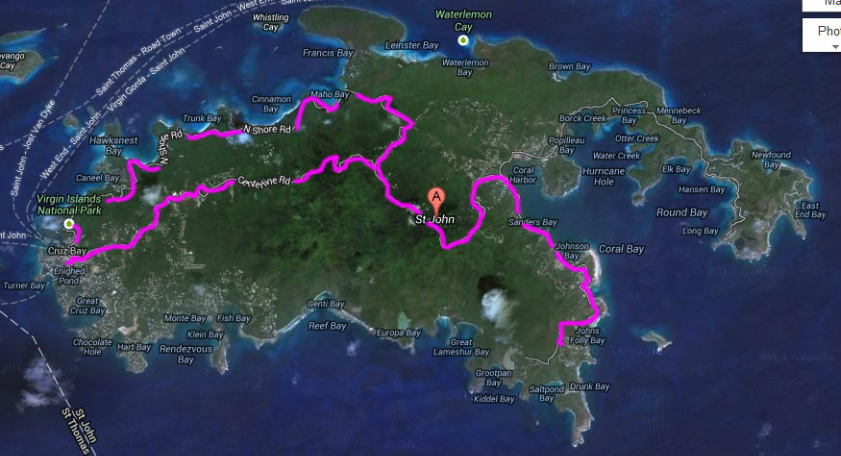 Directions to Iola.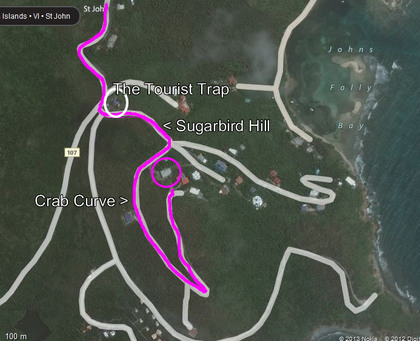 From Cruz Bay take either Centerline Road or North Shore Road. Stop at Columbos for a Rum Smoothie where Centerline and North Shore Road meet.

Follow Centerline road into Coral Bay. drive 4 miles as you pass Coccoloba, Shipwreck Restaurant, Miss Lucy's.

Turn left on Sugar Bird Hill Rd (Concordia Signs may be at this corner). Then go 1 block to Crab Curve Rd. Go right onto Crab Curve. Follow Crab Curve Rd around to the top of Sugarbird Hill and park at the carport, as the road ends.. Crab Curve becomes a dirt road as you pass " Iola's" lower level and office. You may load and off load luggage and groceries at the lower level office driveway if you prefer, it saves steps.

Four wheel drive is a must for Crab Curve :))

---
---
Stunning views of John's Folly of Coral Bay.
Catch the rays in the morning and afternoon then watch
the sunset while enjoying spirits from the other side of the deck.

The Christmas winds have kicked in. Video from December 2016.